Solemnity of St John of God
Circular Letter of the Prior General
Readiness to go out
To all the Brothers and Co-workers, members of the Hospitaller Family of Saint John of God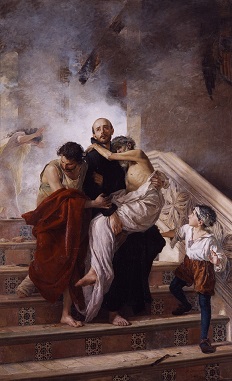 On 8 March we shall be celebrating the Feast of St John of God, in this year which has been particularly affected by the coronavirus pandemic, that is still giving rise to so many cases of infections and deaths, as well as causing poverty and suffering to many people. It is against the background of this situation that I wish to send you my best wishes, inviting you to prepare and to celebrate the Solemnity of our Patron and Founder with the same joy as always, although probably rather more austerely than usual, due to the pandemic.
St John of God always captivates and moves us. The more we read about and meditate on him, the more fascinating he becomes. He is an inexhaustible wellspring of inspiration for all the members of the Hospitaller Family, both in terms of his spiritual life and his dedication and service to those who suffer... for the love of Jesus Christ alone. [1] On this occasion I would like to refer to Chapter XIV of Castro's biography entitled: "On the great charity of Brother John of God"[2]. Ii is also an invitation to read it and meditate on it, taking as long as you need.
It speaks of John's great love for others, especially for the needy to whom he denied nothing that was asked of him, to the point of often giving away his wretched garments, leaving himself naked. Itrecounts many episodes that reveal the great love and humility with which John treated everyone, such as when the Royal Hospital in Granada caught fire and John of God went out to rescue the poor people being nursed there, with such determinati, carrying them out on his backs... In some places, on account of this episode of the fire, he has been declared the Patron Saint of Firemen in Spain (1952) and Portugal (1990).[3]
His love for the poor - his hospitality - knew no bounds. Neither humiliation, nor lack of resources, nor harsh weather, nor the icy water of the Genil River, nor allegations made against him and the traps they set to bring him down, nor the blaze at the Royal Hospital – nothing could keep him from doing good wherever he went, at any time of the day or night. He was not a fireman, who did not exist in those days, but he lived his life always ready to go out to practise charity, setting aside any other plans he might have, becoming a neighbour to anyone in need he might meet along the way. Indeed, when he begged for alms from his benefactors, he would tell them: Send me all the sick and suffering poor people you find there. [4]
This experience of our Patron and Founder is a call to us to be always ready to go out and practise hospitality, consistently with the Samaritan mission of the Church and with what Pope Francis is asking of us: to build a world in which social friendship and fraternity reign.[5] Especially in this time of the pandemic, there are so many needs, so many fires blazing all around us that, like Saint John of God, we must always be ready to leave our homes, our comfort zones, our fire stations, and reach out beyond ourselves to help and care for people who have been weakened by sickness, loneliness or any other social, economic or spiritual needs.
There are many needs and we cannot meet them all, but we can reach out and help many people in need. Let us take the example, once again, of the saint known as the Father of the Poor and let us also bear in mind how he was always prompt and constantly in readiness at all times to go out, as today's firefighters are in their stations. I urge all of us who follow Saint John of God and all the Provinces and Centres of the Order to be especially sensitive at this time of pandemic to the plight of the sick, the poor and the needy, and if possible to make a greater effort to be close to them, providing them with whatever is in our power to give them, and above all our presence, closeness, accompaniment and, in short, our hospitality.
As for the pandemic, the numbers of infections and deaths are continuing to rise worldwide to exceed 113 million and 2.5 million, respectively. Our hopes are still pinned on immunisation with the various vaccines that are already being introduced around the world, so that we will see the pandemic being beaten, little by little. It will still take time and we must be vigilant to continue taking all the necessary protective measures. What still remains to be seen is both the real effectiveness and the duration of the effects of vaccination and, above all, whether the vaccines will reach all the nations and peoples in the world, a call continually being made by Pope Francis and other organisations, on which we must all insist, doing our utmost to ensure that this is what happens.
As for the impact of the pandemic on the Order, there is little to add to my last communication. What is new is that we have had the first infected Brothers in Africa, although in general, particularly where the Order is present, the cases are still few in number, although they have increased in some countries and we have to be very vigilant. In Asia, there are still cases in India - although fewer - and also in other countries such as the Philippines, but we have hardly had any cases ourselves. Where we have had, and continue to hav, the largest numbers of infections, of both Brothers and Co-workers, is Europe and America, especially Latin America and the Caribbean. In total, according to the data we have, 140 Brothers have been infected since the beginning of the pandemic, of whom 10 have died and 2 are still positive at present, although this data is constantly changing.
With regard to news about the Order, in my previous letter I told you that on 26 January this year, the St. John of God Province of Latin America and the Caribbean had been erected, and that the Spanish Province of St John of God was scheduled to be erected on 16 March 2021, completing the process of amalgamating the three existing Provinces that began six years ago. Despite the difficulties of the pandemic, the establishment of the Province of Latin America and the Caribbean was carried out partly in person and partly virtually, and the same will apply to the erection of the Spanish Province. Let us entrust the two new nascent Provinces to St John of God, to guide them along the paths of hospitality that he practised and which he has taught us.
As always, at this time of year, I would like to announce to the whole Hospitaller Family of Saint John of God the results of the 2020 campaign for a project for the House at Velloor (India) "Construction of a facility for a programme for the early detection and prompt action for children with different abilities". The total amount received was 276,318.10 euros, the result of everyone's generosity and solidarity, for which I would like to thank you once again.
I would like to announce that the campaign for the current year 2021 will be the following: "Campaign for the support and the sustainability of the Saint John of God Centre in Batibo. Cameroon". As you know, for several years this Centre has been operating in an area of conflict between the government and its opponents, causing many deaths, displaced people and many other problems, and it is the only hospital in the area. We will soon send you the necessary information. Once again I thank you for your generosity and I urge you to support this cause, in order to continue to support our centre and keep its clinics open to attend to the population of an area that has been sorely punished by violence and by the huge problems caused by armed conflict in that part of Cameroon.
May the charity of St. John of God and his unfailing readiness to serve the most fragile and needy people help us to be always ready to go out to practise hospitality to all vulnerable people, especially at this time of the pandemic.
United in Our Lord and in Saint John of God, I send you all my fraternal best wishes.
Brother Jesús Etayo
Superior General
---
[1] Cf. 2nd Letter to Gutierrez Lasso 7, 12
[2] Cf. Castro, F. The History of the Life and Holy Works of Saint John of God and the Institution of his Order, and the beginnings of his Hospital. Ch. XIV. (The first biography of St. John of God by Francisco de Castro translated with notes by Benedict O'Grady O.H.).
[3] Cf. Liturgy of the Order. Introduction to 8 March, the Solemnity of St John of God.
[4] 1st Letter to Gutierrez Lasso, 2
[5] Cf. Pope Francs, Encyclical Letter Fratelli Tutti. Vatican City, 3 October 2020, 99 and 103

Poster